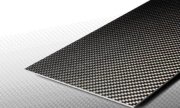 Carbon Plates
are made of
carbon fibers
. With assets of 0.25 mm and 0.3 mm is used by
real-carbon-foil
spoken.
Increasingly, the chassis and growing parts replaced by Carbon.

Thermoplastic Carbon plates can be deformed by heat. Another term is
"Memory-Carbon"
.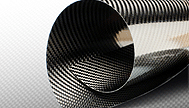 For the jewelry, accessories and design is the high visibility Carbon optics important.
Carbon-fibre plates
are available from 0.5 mm thickness manufactured.
Carbon panels may vary depending on interpretation much easier than some parts from aluminum or steel.
Due to the technical properties are carbon plates for many applications in the industrial and medical technology is preferred.
Up to 80% lighter than steel
Up to 400% harder than aluminum
Chemical corrosion and vibration resistance
Temperature up to about 110 ° C
Specific heat capacity [ J/(kg•K)] 710
Heat conductivity [ W/(m•K)] 17
Thermal expansion coefficient [10-6/K] -0,1
Specific eletrical resistance [ Ohm•cm ] || 1,6 • 10-3